Datrex Emergency Rations - White Ration - 2,400 kcal - USCG / SOLAS (Case of 30 Rations)
Product Description
Datrex Emergency Rations - White Ration - 2,400 kcal per Pack - USCG/SOLAS (Case of 30 Rations)
Case of 30 Rations
MFG's Model # DX2401F
by Datrex Marine Safety products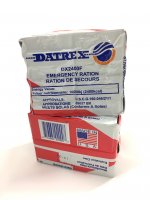 Case of 30 Rations
Datrex Emergency Rations - White Ration, the gold standard of food and water rations, providing 2400 kcal/ 10,000kj per ration, are individually wrapped highly concentrated food bars which are then vacuum bagged in a specially designed polymer-foil package. This high level of protection is certified to keep the contents fresh for a minimum of five years in even the harshest environments.
Made in the USA

Get the best, you or your family's lives could depend on it! Baked and packaged in America at FDA certified facilities

12 individually wrapped 200 calorie bars, in each vacuum sealed foil package, 30 foil packages per case, and 70 cases per pallet

Ingredients: Wheat Flour, Vegetable Shortening, Cane Sugar, Water, Coconut flavor and Salt. (Peanut Products Free)
USCG / SOLAS approved and compliant

Features:

Designed for maximum paletability across all ages and food tastes
Eat solid or can be mixed with water
High energy value and ready to eat
Non thirst provoking
Small and lightweight
All No preservatives
Natural ingredients
Non-GMO ingredients and nut-free
Tabletized and subpackaged for ease of rationing
5 year shelf life

Individual Package Data:
12 individually wrapped 200 calorie food bars
17oz / 482g (approx)
3.5 X 2.5 X 2.5 inches

Case Data:
30 foil packages per case
31 lbs
13.25 x 8 x 9.5 inches

Discounted pricing by the pallet available.
Pallet Data:
70 cases per pallet
2,200 lbs (999 kg)
40 x 48 x54 inches (1.70m3)

If you have any questions concerning this product, please don't hesitate to contact us.
Find Similar Products by Category
Customers also viewed