Datrex Emergency Drinking Water - 125 ml Sachets - USCG/SOLAS/BV (Case of 64 Sachets)
Datrex Emergency Drinking Water - 125 ml Sachets - USCG/SOLAS/BV (Case of 64 Sachets)
Product Description
Datrex Emergency Drinking Water - 125 ml Sachets - USCG/SOLAS/MED/TC
Case of 64 Sachets
MFG's Model # DX1000W
by Datrex Marine Safety products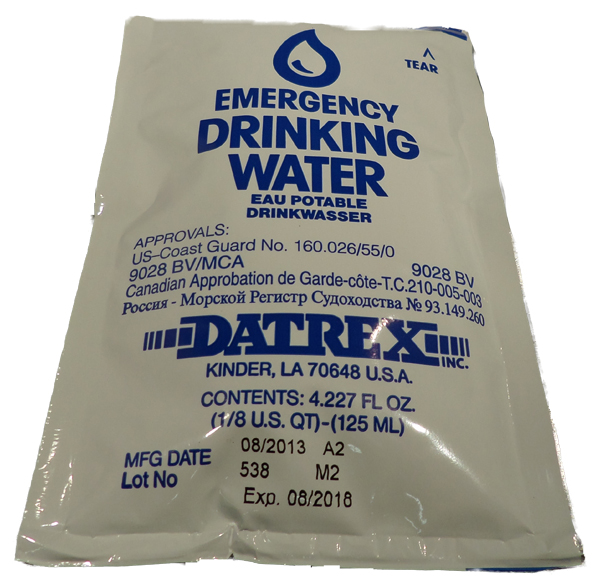 Datrex Emergency Drinking Water Rations, the gold standard of food and water rations, are individual servings of filtered fresh water, bagged in a specially designed polymer-foil sachet. To consume tear open at the mark and sip straight from the bag. The high level filtering and outer protection is certified to keep the contents fresh for a minimum of five years in even the harshest environments.
Made in the USA
(64) 125 ml Sachets per case


Get the best, you or your family's lives could depend on it! Filtered and packaged in America at FDA certified facilities.

· NSN: 8960 0112 4454 3
· Purified water for immediate use.
· Superior packaging materials for optimum durability.
· Easy to dispense from a pre-measured sachet.
· Lightweight and extremely compact.
· Loss potential minimized due to individual sachets.
· 5 years shelf life.

USCG, Canadian Coast Guard, EC and NZ approval certified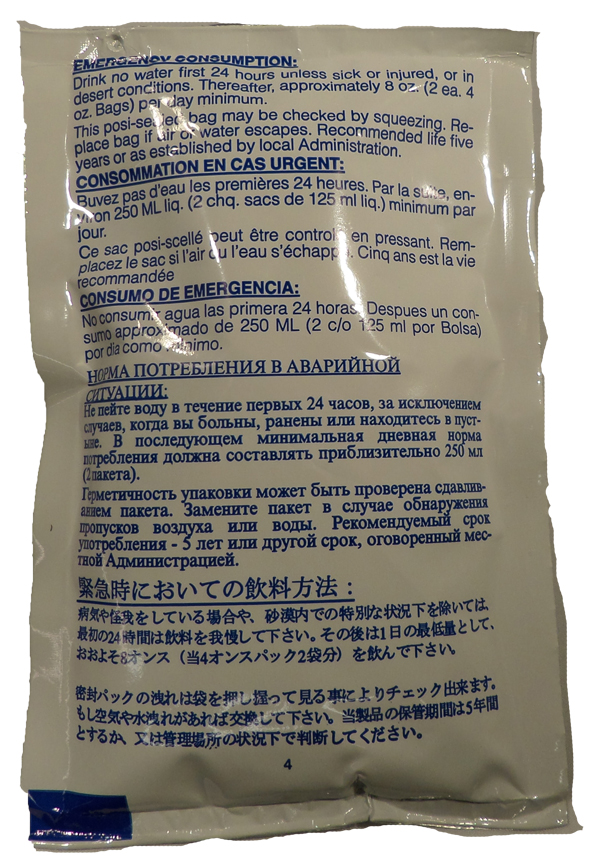 Sachet Data (each serving):
· Sachet volume: 125 ml / 4.227 fl oz
· Sachet dimensions: 6 x 4 x .5 inches
· Sachet weight 132 g

Case Data:
· Case total volume of water: 12 liters
· Number of Sachet per case: 96 sachets
· Case dimension: 13.25 x 9.75 x 6.25 inches
· Case weight 20.5 lbs (9.2 kg)

Available in 1.5 Liter Overwrap Bags containing (12) 125 ml individual serving Sachets each. (8) 1.5 Liter Overwrap Bags per 12 liter Case. (96) Sachets total.
Discounted pricing by the pallet (98 cases / pallet) available.

Pallet Data:
· Number of cases per Pallet: 98 cases
· Pallet dimensions: 40 x 48 x 55 inches / (1.70m3)
· Pallet Weight: 2,010 lbs / 913 kg

If you have any questions concerning this product, please don't hesitate to contact us.
Find Similar Products by Category