EF-30A-1 White and IR LED Strobe
EF-30A-1 White and IR LED Strobe
EF-30A-1 White and IR LED Strobe
Product Description
EF-30A-1 White and IR LED Strobe - Electronic Flare
Model # EF-30A-1
By North American Survival Systems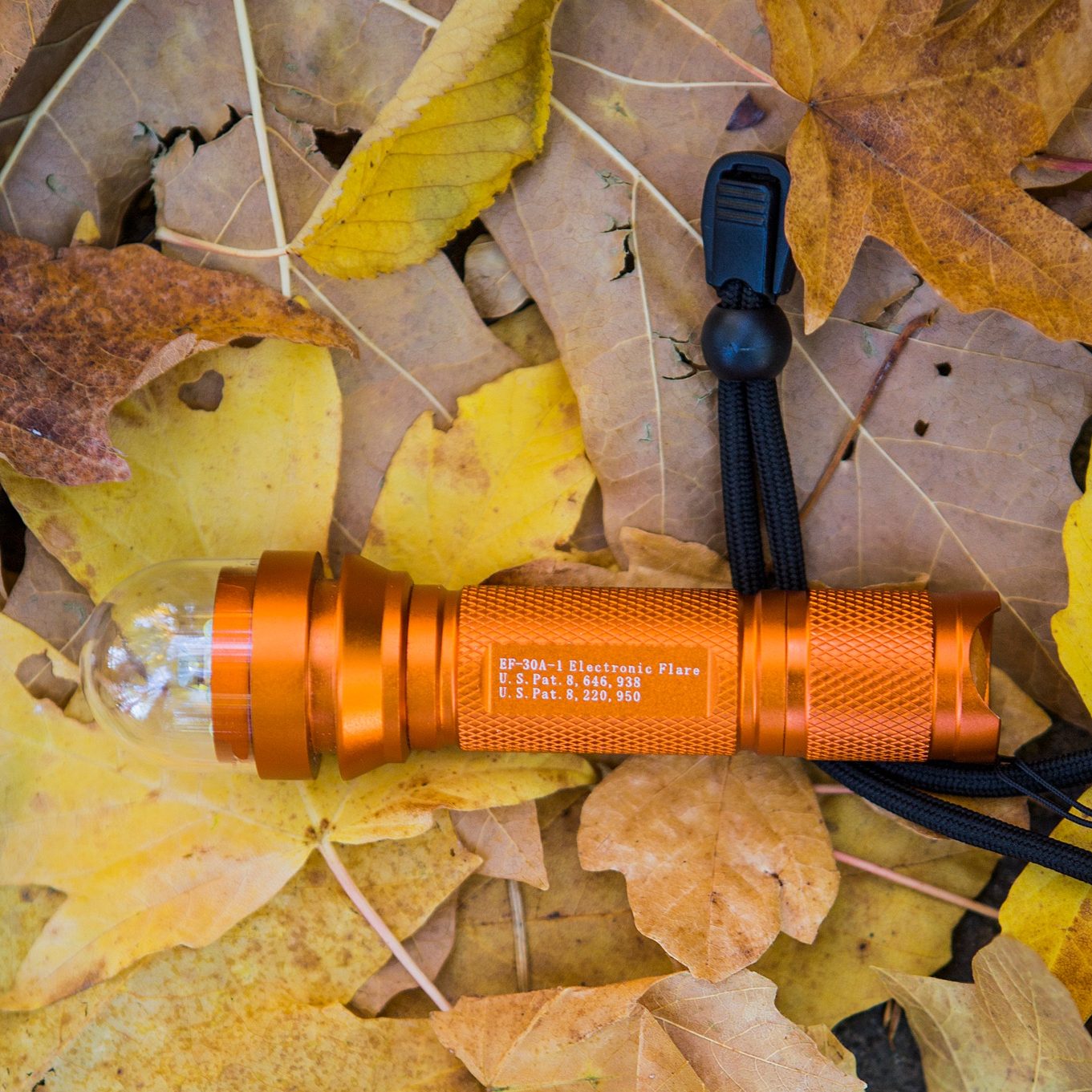 The New EF-30A-1 White and IR LED Strobe - Electronic Flare continues the legacy of the acclaimed EF-20A-1 Lightening and EF-10A-1 LED Electronic Flare, as the latest from North American Survival Systems.

Be Seen - Be Saved!
When someone is looking for you. It is what they SEE that counts.
The new EF-30A-1 White and IR LED Strobe - Electronic Flare is a high intensity White and IR LED Strobe specifically designed for one purpose and with one function - push the button on the base - to be seen and be saved. It operates an effective signal of over 35 hours. The brightest signal product means you can be seen better!

The new White and IR LED configuration of the EF-30A-1 The USCG, Border Patrol, Police, and Military are currently requiring IR capability in any new distress signal product because they conduct their searches using night vision detection equipment that in some cases cannot "SEE" white LEDs. The EF-30A-1 Electronic Flare is a handheld LED strobe that is visible to the naked eye with the white LEDs and IR LEDs just for those Search and Rescue assets using night vision goggles.

What Practical Sailor magazine wrote about the EF-20A-1 "When the spray settled after all our testing, the EF-20A-1 Lightning Electronic Flare from North American Survival Systems had out-shone its competitors and garnered top meter readings, the brightest light signature at 100 yards, and most noticeable light at .62 nautical miles. This is our recommended light for manual activation." Practical Sailor magazine, (Feb, 2016)
Compact and convenient to carry inside your vest or in your pocket. You are more likely to have it with you when incidents happen, to, from, or on the water. A vital piece of safety gear for boaters, kayakers, and all outdoor enthusiast. As a courtesy, we tell you ahead of time that it is a much brighter light than expected.

EF-30A-1 Specifications:
Length: 4.8 In.
Width: 1.215 In.
Weight: 4.2 Oz with batteries.
Light Type: Visible and IR LED Strobe
Battery type: 2 CR-123 Lithium, 5 year storage shelf life
Candela: 300
Strobe flash rate: 60 per minute.
Battery Life: over 35 hours
Case Material: Anodized aircraft aluminum.
Dome Material: Polycarbonate.
Housing: Anodized Aircraft Aluminum.
Switch: Push button on bottom ON/OFF.
EF-30A-1 Features & Operation:

Lens Cover: Polycarbonate.
Battery: 2 CR-123 Lithium.
Water Test: 50 ft.
Operation: Over 35 Hrs.
Flash rate: 60/minute nominal.
Viewing Angle: Full upper hemisphere.
Tested Night Visibility: Over 10 Nautical Miles.
Tested Day Visibility: Over 1 Nautical Mile
Light Source: 4 White and 3 IR LEDs.
Exceeds USCG Approval standards.
US Pat 8,646,938 US Pat 8,220,950
United States Coast Guard Alternatives to Pyrotechnics Test Report.
See our product #19 on pages 5 and 20. We were the only compact strobe seen at 5 miles compared to other products tested.
Download and read the USCG test report.

ADA558775



If you have any questions concerning this product, please don't hesitate to contact us.
Find Similar Products by Category