CO Experts 2017R-10, ULTRA
CO Experts 2017R-10, ULTRA
CO Experts 2017R-10, ULTRA
Product Description
CO Experts Model 2017R-10, ULTRA, Low Level Carbon Monoxide Monitor
Model # PG-2017R-10
by CO Experts
Available for IMMEDIATE SHIPMENT !
The brand new CO Experts 2017R-10, ULTRA
** with Replaceable Batteries**

Introducing the Model 2017R-10, ULTRA Low Level CO Monitor in the New small, round, (2.5 inch diameter & 1.5 inches deep), with Audible & Visual Warnings starting at 5PPM, 10PPM or 25PPM.
The Ultra Low Level Carbon Monoxide Detector, CO Experts 2017R-10, ULTRA - Ultra, following in the line of acclaimed CO Experts models 1070, 2010, 2014, 2015 and 2016.

The 2017R-10, ULTRA is designed to use two AAA replaceable batteries and to provide all the fully automatic features our customers have learned to expect from CO Experts.
This Low Level CO "Health" Monitor provides exactly the same features as the CO Experts, Model 2016 except it utilizes a small round housing and has replaceable batteries. Thanks to the extremely Low power consumption design and components, these batteries "could" last up to three to five years if audible alarms are kept to a minimum.
Publicity for the CO Experts Model 2016!

Safety: Portable CO Detectors - CO Experts Best

"Because of its sensitivity, useful life and low-level alarms, our favorite is the CO Experts Model 2016. It's the most expensive unit, but it lasts the longest, so it's not the most expensive in service...."


Aviation Consumer
magazine, October 2016 issue

The carbon monoxide detectors made by CO Experts have led the industry in performance and reliability for homeowners, pilots, businesses and more. With the advent of the new CO Experts model 2017R-10, ULTRA, the best keeps getting better! The same powerful electro-chemical sensor that made the previous model a success is still present but the entire unit has been made smaller - which makes this CO detector an even better choice for pilots and vehicle operators than ever before. Included with each CO Experts 2017R-10, ULTRA, there are the standard wall-mounting screws as well as Velcro strips included for non-permanent mounting, or set the unit out on a table, bookcase, bed-stand or anywhere else.
Carbon monoxide can pose a serious threat in the cockpit. Despite CO being odorless, colorless, tasteless and non-irritating, this toxic gas can cause head-aches, disorientation, impaired judgment, and in high exposures, even death. Protect yourself and your passengers with a Carbon Monoxide Detector like the CO Experts 2017R-10, ULTRA. Our sister website, Aeromedix, is the exclusive distributor of the CO Experts to the aviation industry and is proud to carry such an effective device that will alert you of carbon monoxide presence down to 10 parts per million!
Product Size:
2.5 inches in diameter
1.5 inches deep
Back view with removable back plate and mounting screw holes

Back view with back plate removed and (2) replaceable AAA batteries exposed.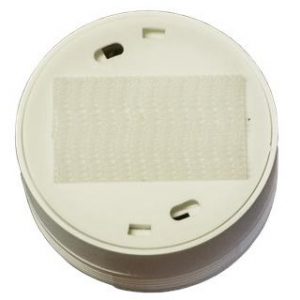 Back view with removable back plate and Velcro attachment strip.
User replaceable batteries - (2) AAA (included)
Velcro attachment strip (included)
Mounting screws & sheet-rock anchors (included)
One-year manufacturer warranty
This Product is Designed and Made in the U.S.A.


On your Wall, in your shirt pocket, OR in your PURSE, your ULTRA tells you if the air you are now breathing is CO Safe in SECONDS, NOT HOURS.
ONLY "REAL TIME" IS always "IN TIME."
"REAL TIME" … Audible Alarms at 5, 10, 25, 35 and 50 PPM, Audible alarms are sounding while the CO PPM present is being displayed on the LCD.
No buttons you have to push to get "Readings" to "SILENTLY" appear to show you the levels of CO Poisoning under 70PPM you are being exposed to because you will not be hearing ANY, _ NO, NONE, ZERO, audible alarms from these CO alarms. (pushing a button is impossible when you are sound asleep, the most dangerous time for extended C O exposure.)
All of our New ULTRA and C O – Experts C O Monitors include a fully automatic "Silence" feature. After four minutes of repeated audible alarm warnings, if you have been unable to manually push the "Silence Button" sooner, the automatic "Silence / Silence over-rides" feature will be employed. All C O Levels & periods of "Silence" remain the same regardless if "Silence feature" has been employed manually or automatically.
"One of the reasons I recommend our low level reading carbon monoxide sensor is the unique environment of an airplane. A pilot needs to know that CO is present at low levels before they reach dangerously high levels not only because your cannot pull off the side of the road but the added effect of hypoxia increases the body's sensitivity to CO.

I recommend that any reading of 10 PPM that last for more than a few minutes needs to be address. This may be a small crack in an exhaust that may enlarge to a dangerous size. If the CO reading is rapidly rising, measures should be taken to arrest the trend by opening fresh air vents, closing heat vents, and going to lean of peak. If the level reaches 35 PPM, an emergency landing is appropriate and the use of oxygen for the pilot is prudent until the aircraft is safe on the ground. The aircraft should not be flown again until the source is identified." -- Dr. Brent Blue
Model 2017R-10, ULTRA Features:
Visual warning starting at 5PPM
Audible Alarm: Initial Warning Level: 10PPM
10 to 24 PPM … ONE Series of four beeps ONCE every Minute - if pregnant get fresh air
25 to 34 PPM … ONE Series of four beeps ONCE every Minute - if pregnant get fresh air
35 to 50 PPM … ONE Series of four beeps every 30 seconds - pregnant, elderly, all persons with medical conditions _ EVACUATE NOW !
"HI" ….ONE Series of four beeps every 20 Seconds – CALL 911 & EVACUATE NOW!
SILENCE Feature: … Periods of elapsed time: To activate "Silence touch the "test / Silence button ASAP after all audible alarms. If you are not at home or are unable to touch the button, after four minutes the Silence is automatically employed.
10 to 24 PPM … Silence … 24 Hours with RED L.E.D. FLASHES once a minute
25 to 34 PPM … Silence … 8 Hours with RED L.E.D. FLASHES once a minute
35 to 50 PPM … Silence … ONE Hour with RED L.E.D. FLASHES Twice a minute
"HI" … Silence….4 Minutes with RED L.E.D. FLASHES Three Times A minute
LCD _ Constant Visual C O PPM displayed from 5 PPM UP to 50 PPM _ then LCD displays: "HI" if C O PPM present is over 50 PPM. Below 5PPM LCD will be blank
STORED DATA and RECALL when "Test / Silence" button is pushed:
1. When Monitor is in audible alarm mode when Test button is pushed LCD will first display :"SIL".
2. Displays "Peak / High" Reading recorded in the previous 24 hours.
3. Display shows COHb that would have resulted from the C O Exposure in the previous 24 hours
4. Display then returns to the level of C O currently present or be blank if C O present is under 5.
TO Clear ALL Stored Data and "Silence / Hush" period:
Depress the "Test / Silence" button continuously for seven seconds, (7 seconds)
The Monitor will emit one single Beep and the LCD will display "CLR", confirming that the stored data and "Silence Periods have been erased.
To many customers the most important benefit of the NEW 2017R-10,ULTRA Series of CO "Health" Monitors is CO Experts "Person to Person" Sales & Service Policy. By calling: 888-443-5377 you can speak directly to a member of the CO Experts "CO Dream Team" to respond to all of your CO Monitor's CO audible Warnings & displays of CO PPM readings on the Monitor's LCD, or to any Monitor "Fault Warning" (one single Beep at a time), indicating a functional problem in your CO Monitor.
IMPORTANT NOTE ON STORAGE:
We recommend that any CO detector (including the CO Experts & Pocket CO models we sell) should not be left for any extended period of time in aircraft that are not hangared or vehicles that are not garaged. The interior temperatures of closed aircraft or motor vehicles left out in the sun can easily reach 120°F or more, and such temperatures can result in accelerated evaporation of the electrolyte in electro-chemical CO sensors and premature failure of the detector. A few days now and then is no problem, but if the aircraft or vehicle is to be stored out of doors for a week or more, the detector should be removed and kept in a more temperate location. Because of its larger-capacity sensor, the CO Experts Model 2010 can tolerate more abuse than most CO detectors, but ultimately its sensor life will be shortened by prolonged exposure to high temperatures. Cold temperatures generally have no adverse effect on these units.
*OceanMedix RETURN policy does not apply to CO Experts' products. Customers must contact CO Experts directly to obtain a MRA number. CO Experts can be reached by email, coexpert101@yahoo.com, or phone, 1-417-426-5504 or 888-443-5377. *Warranty is limited to the repairing or replacing of any parts which it finds under normal care and use, to be defective in material or workmanship as long as such parts or components are still commercially available, and the returning of same to the customer. This warranty shall NOT APPLY to any C O Monitors that have been opened, dropped, damaged, modified, abused or altered in any way after the date of purchase, whether intentional or accidental, or if used for purposes, or in environments / conditions other than those intended or for which it is recommended herein, after the date of purchase, or if it fails to operate due to improper maintenance or inadequate battery power.


If you have any questions concerning this product, please don't hesitate to contact us.
Find Similar Products by Category