Opioid Overdose Kit - 1 Dose with Case
Opioid Overdose Kit - 1 Dose with Case
Opioid Overdose Kit - 1 Dose with Case
Opioid Overdose Kit - 1 Dose with Case
Product Description
Opioid Overdose Kit -
1 dose with Nylon Case
Item # 670034-KIT
by Curaplex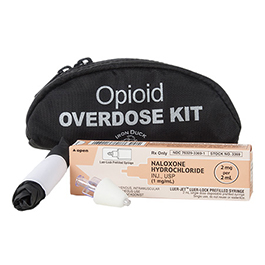 OceanMedix introduces the Opioid Overdose Kit - 1 Dose with Nylon Case configured by Curaplex. This kit is designed to be carried and available in the event of opioid overdose.

Each Opioid Overdose Kit includes:
(1) naloxone pre-filled syringes,

(1) MAD mucosal atomization devices,

(2) pair of latex-free gloves,

(1) nylon case.

A quick reference instructional card

An Opioid Overdose Awareness and Information document prepared by the Harm Reduction Coalition

Physician's Prescription Order
Naloxone (generic for the brand name Narcan) is used to reverse the effects of an opioid or heroin overdose, to also include a number of readily available pain medications to include morphine, codeine, oxycodone, methadone and acetaminophen hydrocodone (generic for Vicodin). With very few side effects of consequence, naloxone can be a life-saver for one experiencing an overdose. This drug acts in a matter of minutes blocking the effects of the overdose and allowing the victim to revive, with a lasting period of 30 to 90 minutes. This window allows for follow-up professional medical care; the drug overdose to wear off; or, the need for an additional dose of naloxone.
The epidemic of drug related deaths in the USA is real, and unfortunately our commercial marine and fishing industry is not exempt. At this time the US Coast Guard is prohibited from carrying or administering naloxone. As the situation becomes more broadly recognized, there is a lot more awareness of naloxone and training in its use. Naloxone is becoming more available, having filtered down from the medical setting and into the law enforcement, EMS and first responder networks. As with the prevalence of epinephrine for countering allergic reactions and automatic emergency defibrillators (AEDs) it will not be long before naloxone and administration kits will be a standard component of many first aid kits.
In the traditional medical setting naloxone is administered by IV (intravenous) or by injection IM (intramuscular) or SC (subcutaneous). The Opioid Overdose Kit offered by OceanMedix is configured with the user friendly MAD mucosal (nasal) atomizer. This devise is easy to use with little or no training. Administration is made utilizing the pre-filled syringe barrel with the nasal atomization device attached – no needles, no syringes to load from a vial, no hesitation in giving an injection. The foam nasal atomizer is inserted into a nostril with one-half of the cylinder of naloxone sprayed into each nostril.
If you have any questions concerning this product, please don't hesitate to contact us.
Find Similar Products by Category