SOL (Survive Outdoors Longer®) Hybrid 3 Kit by Adventure Medical Kits
Product Description
SOL (Survive Outdoors Longer®) Hybrid 3 Kit
by Adventure Medical Kits
p/n 0140-1737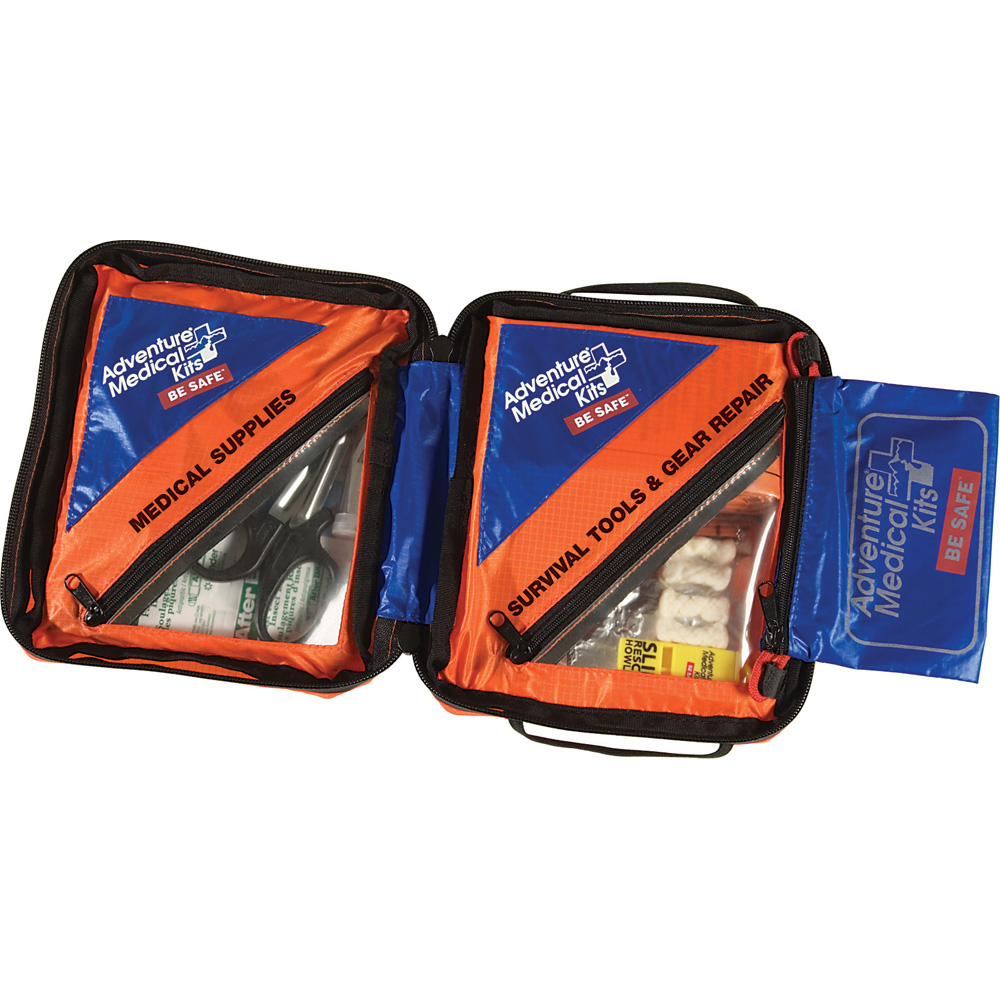 The Hybrid 3 is for anyone seeking an integrated solution for all aspects of outdoor safety. This 3-in-1 kit provides medical supplies for dressing wounds, stabilizing fractures, and treating illnesses; survival tools to signal rescuers, start fires, and stay warm; and gear repair items to jury rig just about anything back together. An ultra-light nylon organizer bag with a detachable pouch for short trips away from camp makes it easy to find exactly what you need in any type of emergency.
Kit Details
Size: 7" x 6" x 2.5"
Weight: 1lb .4oz.
Group Size: 1 Person
Trip Duration: Multiple Days
Features and Benefits
Basecamp or Backpack Duty
Detachable inner pouch for summit attempts or trips away from base camp.
Be Seen And Heard
Broadcast your location up to 10 miles away with the Mini Rescue Flash™ Signal Mirror and up to one mile away with the 100dB Slim Rescue Howler™ pea-less whistle.
Light the Way
2-Watt LED headlamp projects a bright, focused beam.
Manage Pain and Illnesses
A wide array of medications to treat pain, inflammation, and common allergies.
Provide Hospital-Quality Care
Hospital-quality tools, including EMT Shears and precision forceps, set the standard for backcountry medical care.
Start Campfires and Camp Stoves
Fire Lite™ striker is waterproof and tested to produce over 5,000 sparks; Tinder Quik™ burns up to two minutes, even when wet.
Stay Warm
SOL Survival Blanket reflects 90% of radiated body heat. Survival instructions printed directly on blanket.
Stop Bleeding and Dress Wounds
Sterile dressings, adhesive bandages, and gauze to handle all types of wounds.
Supply List
Bandage Materials
4 - Bandage, Adhesive, Fabric, 1" x 3"
2 - Bandage, Adhesive, Fabric, Knuckle
4 - Bandage, Butterfly Closure
1 - Bandage, Conforming Gauze, 2"
2 - Dressing, Gauze, Sterile, 4" x 4", Pkg. / 2
2 - Dressing, Gauze, Sterile, 2" x 2", Pkg./2
2 - Dressing, Gauze, Sterile, 3" x 3", Pkg./2
2 - Dressing, Non-Adherent, Sterile, 3" x 4"
Bleeding
1 - Gloves, Nitrile (Pair) with Hand Wipe
Blister / Burn
1 - Moleskin, Pre-Cut & Shaped (14 pieces)
Duct Tape
Gear Repair
3 - Cable Ties, 4"
3 - Cable Ties, 8"
Instrument
1 - EMT Shears, 4"
1 - Splinter Picker/Tick Remover
5 - Safety Pins
Medications
2 - After Bite Wipe
2 - Antihistamine (Diphenhydramine 25 mg)
4 - Ibuprofen (200 mg), Pkg./2
Survival Tools
1 - Detachable Bag, Pocket Size, Nylon
2 - Aluminum Foil, Heavy Duty, 3 Sq. Ft.
1 - Compass, Button, Liquid Filled
1 - Fire Lite™ Sparker
1 - Headlamp, 2 Watt LED w/ headband - 25 Hour
1 - SOL Survival Blanket 96" x 60"
1 - Mini Rescue Flash™ Signal Mirror
1 - Slim Rescue Howler™ Whistle
4 - Nylon Cord, #18, Braided, (10 ft. 100 lb test)
4 - Tinder Quik™
Wound Care
3 - Antiseptic Wipes
1 - Povidone Iodine, 3/4 oz
1 - Tape, 1/2" x 10 Yards
1 - Skin Tac Adhesive Wipes
2 - Triple Antibiotic Ointment, Single Use
We reserve the right to add, substitute, or delete items if necessary
Please note: Some medications may not be available in products sold outside of the US, additional items may be substituted.


If you have any questions concerning this product, please don't hesitate to contact us.
Find Similar Products by Tag
Find Similar Products by Category