Neptune Tactical Boat Damage Control Bag
Neptune Tactical Boat Damage Control Bag
Product Description
Boat Damage Control Bag
by Neptune Tactical, a Strategos Consulting, LLC company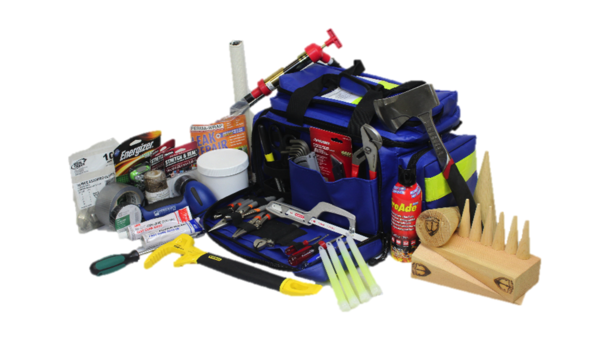 The Boat Damage Control Bag by Neptune Tactical is designed to be carried onboard any recreational, fishing, commercial or military small craft to readily available if needed in the event of damage or flooding due to collision, grounding, hull, or mechanical failure of through-hull, seacock, piping or shaft seal.
This comprehensive kit includes all of the emergency safety devices, plugs, patches, fasteners, and tools for the controlling most flooding situations, including hull and tank breaches, chafed hoses, damaged through-hulls, split piping, and failed shaft seals.
The Boat Damage Control Bag comes with a 30-Day eLearning Training Program providing each boat owner/operator with detailed instruction in the use of each component of the Boat Damage Control Bag.
Boat Damage Control Bag
Size: 20.5" x 12.5" x 11.5"
Weight: ~ 25 lbs.
Boat Damage Control Bag contains:
Rugged Soft Case
Leak Repair Kit
Softwood Plugs
Softwood Wedges
Rescue Tape, 2 pack
Split Fire Hose, 1-1/2" x 12"
Fiberglass Pipe Repair Wrap, 2" pipe, 600 psi, 1200*F
Polyurethane Sealant, 30 oz tube, 200 psi, 190*F
Neoprene Sheet, 3 sq ft
SAE 104, SAE 20 Stainless Steel Hose Clamps
SAE 36 Stainless Steel Hose Clamps
Heavy Duty Cloth Duct Tape, 60 yds
Tarred Marlin, 4 oz
Screwdriver, (2) Phillips / Flat
9" Adjustable Wrench
Safety Knife, Floating with Serrated Blade
8" Pliers
Scissors
Fire Aide, Fire Extinguisher
Extendable Mirror
Saw
Axe
Tarred Yacht Marlin
Vision HD + Headlamp
Batteries, flashlight
Rubber Gloves
Quikrete, Quick Setting Cement
Jabsco Manual Hand Pump
Signal Horn, Handheld, Battery Operated
Glowsticks
Blunt Nose Pliers
8" Crescent Wrench
Heavy Duty Tarp
13 Piece Long-arm HEX Key Set
Slotted Screwdrivers
Phillips Screwdrivers
5 Piece Pliers Set
Utility Knife
Duct tape
Electrical Tape
Stretch and Seal Tape
Heavy Duty Multi Tool
eLearning Training Program
If you have any questions concerning this product, please don't hesitate to contact us.
Find Similar Products by Tag
Find Similar Products by Category