Ikaros MOB Mk IV Man-Overboard Smoke Marker - 15 min Orange - USCG, SOLAS / MED
Product Description
Ikaros MOB Mk IV Man-Overboard Smoke Marker - 15 min Orange - USCG, SOLAS / MED
Product # CI3452P
by Nammo Sweden / Hansson Pyrotech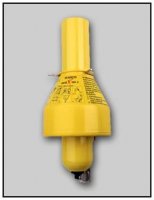 Ikaros MOB Mk IV Man-Overboard Smoke Marker - 15 min Orange - USCG, SOLAS / MED
For use as a man-overboard marker, designed for mounting on the ship's bridge together with a lifebuoy.
The MOB is a 15 minute orange smoke marker with a bracket for easy mounting.
The IKAROS Man-overboard (MOB) signal is approved globally and meets the latest SOLAS 74/96 regulations.
Global Approvals – USCG, CA-DOT, BV, MED, SOLAS

Smoke Time: >15 minutes
Dimensions: 200 x 500 mm (7.8 X 19.6 in)
Weight: 4.7 kg (10.3 lbs)

The maximum storage height: 45 m (164 ft)

Shipping Note: HAZMAT - This product ships via Ground Service only.

If you have any questions concerning this product, please don't hesitate to contact us.
Find Similar Products by Category