Hammar Lifebuoy Quick Release System - Complete - Remote Release
Product Description
Hammar Lifebuoy Quick Release System - Complete - Remote Release
by CM Hammar AB (Sweden)
Model # HA6000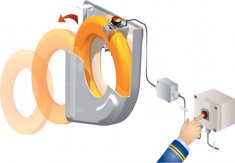 The Hammar Remote Lifebuoy Quick Release System is a well-designed system that ensures both the quick release of the Bridgebuoy in a MOB situation, as well as if the vessel itself is sinking.
Features:
Safe and quick operation to save lives
Electric activation from the bridge
One complete package
Easy and quick installation onboard
Economical solution
A complete system for one side consists of:

HA0500H: GRP holder with mounting brackets that can be fitted on either port or starboard side, size 1000X1000X130 mm.
HA0510H: ERRS package which includes one release switch, one connector box, one ERU, 15 meters of cable and a manual. The release switch is operated on DC24V emergency power.
HA0520H: Holder package which includes metal holder, spring, manual safety pin, reinforcement washer, cable tie and manual
DX0340D: Datrex Bridgebuoy 4.0 kg.
If you have any questions concerning this product, please don't hesitate to contact us.
Find Similar Products by Category